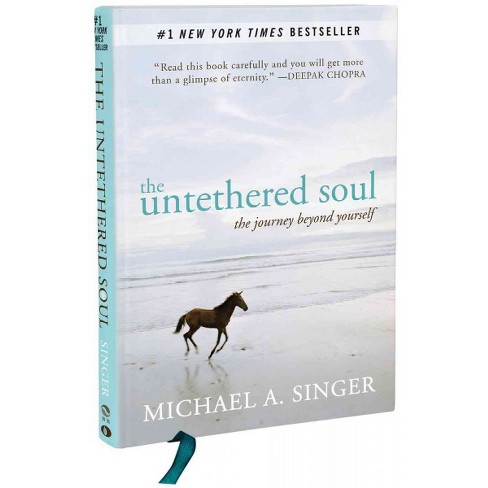 I am currently reading "the Untethered Soul," by Michael A. Singer. We have been reading this book as an informal book study on FB and on Instagram. So far our discussion is only on chapter 2 so there is still time to join in if you want. You can pick up the book on
Amazon here
. Feel free to add your comments on the following posts below as you read. You are also welcome to just follow along in the discussion even if you choose not to read the book just now.
I have been thinking a lot lately about all the books I have read over the years that have been important to my creative mindfulness journey. I don't know about you but I love a good introspective, self help sort of book! I thought I would just start an informal list here on our blog. I invite you to add your input about any of these book that you have read or add suggestions of books that have been important to your creative and or mindfulness practice.
Comments are always welcome!
I feel like so often we stand in our own way, put up blocks to our creativity, feel like we are not good enough or worthy enough to follow a creative path. It is so hard to fight those inner gremlins and put our selves out there in such a vulnerable way. For me reading these types of books have proven to be very helpful in giving me little nudges toward following my own creative mindfulness path.
"The Artist's Way," by Julia Cameron got me to really look at my creative journey as more of a purposeful practice. I enjoyed writing the suggested 3 morning pages most mornings as part of my morning routine. While I was following the morning pages practice, I really felt as if my creative energies were renewed. I have fallen out of the practice now, but as I write this I feel encouraged to begin again. It is a nice way to start out the morning. I may change it up a bit though, combine writing and sketch…and I probably won't stick strictly to the three pages rule!
"Big Magic," by Elizabeth Gilbert encourages you to embrace the creativity already within you. The quote above is one which I truly believe in! Sometimes we allow those gremlins in and they talk us out of believing in our own creative spirit, but this book does a great job of helping to open you up to your own creative potential.
"Mindfulness and the Art of Drawing," by Wendy Ann Greenhalgh teaches techniques to combine drawing with your mindfulness practice. For me mindfulness and my creative process go hand in hand. It is through my creative process that I first discovered mindfulness and began to incorporate it into my life.
10 Books I have read (or am currently reading) in no particular order:
These books are all inspiring in their own way, and I encourage you to give them a read if you have not already!
"the Artist's Way: A Spiritual Path to Higher Creativity,"

by Julia Cameron.

"Mindfulness and the Art of Drawing,"

by Wendy Ann Greenhalgh

"Stop, Look, Breath, Create,"

by Wendy Ann Greenhalgh

"Big Magic: Creative Living Beyond Fear,"

by Elizabeth Gilbert

"The Crossroads of Should and Must: Find and Follow Your Passion,"

by Elle Luna

"The Four Agreements,"

by Don Miguel Ruiz

"You are a Badass: How to stop Doubting Your Greatness and Start Living an Awesome Life,"

by Jen Sincero

"Steal Like an Artist: 10 Things Nobody Told You About Being Creative,"

by Austin Kleon

"The Happiness Project,"

by Gretchen Rubin

"The Year of Yes: How to Dance it Out, Stand in the Sun, and Be Your Own Person,"

by Shonda Rhimes
10 Books on my list to read next in no particular order:
I am always collecting titles for further reading here are a few that are on my Amazon Wish list. I encourage you to leave suggestions in the comments of books that you have found to be helpful or insightful in the areas of creativity and/or mindfulness. I am always on the lookout for good books on these topics!
"Creating Mandalas: For insight, Healing, and Self-Expression,"

by Susanne F. Fincher
"The Creative Habit: Learn It and Use It For Life," by Twyla Tharp
"Drawing Your Own Path: 33 Practises at the Crossroads of Art and Meditation," by John F. Simon Jr.
"Art Matters: Because Your Imagination Can Change the World," by Neil Gaiman
"A Book That Takes Its Time: An unhurried Adventure in Creative Mindfulness," by Irene Smit & Astrid van der Hulst
"Creative Confidence: Unleashing the Creative Potential Within Us All," by Ton Kelley & David Kelley
"The Spirit Almanac: A Modern Guide to Self-Care," by Emma Lowe & Lindsay Kellner
"Start Where You Are: A Journal For Self Exploration," by Meera Lee Patel
"Trust the Process: An Artist's Guide to Letting Go," by Shaun McNiff
"Paint Yourself Calm: Colorful, Creative Mindfulness Through Watercolor," by Jean Haines
10 Children's books that are favorites of mine for sparking creativity and Mindfulness, fun for adults as well as children!
I absolutely love children's books! I love the short and sweet messages, the beautiful art work, and the innocent charm that can speak to all ages. The books below are some really great inspirational books that illustrate beautifully the ideas of individual creativity and mindfulness. Again I am always looking for new titles so comment your favorites below!
"Swatch: The Girl Who Loved Color," by Julia Denos
"

Dot,"

by Peter H. Reynolds
"Ish," by Peter H. Reynolds
"Sky Color" by Peter H. Reynolds
"Happy Dreamer" by Peter H. Reynolds
"Beautiful Oops," by Barney Saltzberg
"I Am Peace: A Book of Mindfulness," by Susan Verde
"I Am Yoga," by Susan Verde
"My Magic Breath: Finding Calm Through Mindful Breathing," by Nick Ortner
"One," by Kathryn Otoshi
I look forward to hearing from you and your thoughts on these or other books that have impacted you own Creative Mindfulness Journey!